Denis Van Weynbergh
A well-shaped head
Determined, passionate, creative, courageous, organised... Denis Van Weynbergh's qualities are those of a man who likes to be enterprising and he has proved it many times in his career. After graduating from Sciences Po before training as a journalist, the Belgian, who speaks French, English and Dutch, did not hesitate to resume his studies at the age of 35 and then set up his own company, "PN Express Worldwide", an SME specialising in the distribution of express mail and parcels, both nationally in Belgium and internationally. He knows that setting up a project means fulfilling a dream. Taking part in the mythical Vendée Globe, rightly nicknamed the Everest of the seas, is a difficult and demanding challenge, which involves his personal life. However, Denis knows how to show determination, but also perseverance. No success has been achieved without failure, and if he was forced to throw in the towel during the last edition due to a lack of financial resources, the Brabant sailor based in Ottignies-Louvain-la-Neuve, who for a while backed out, is now getting ready to take the plunge!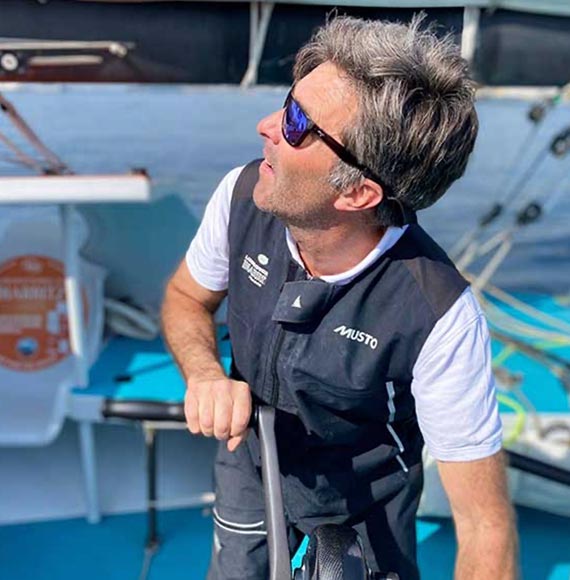 An experienced sailor
Denis has always been passionate about sailing. He started out as a sailing and cruising instructor at the UCPA, while working as a nautical journalist for Yachting Sud, a specialised French-speaking Belgian magazine. But very quickly, the competition dimension was added to his practice, and this is how he found himself at the start of the Mini Transat in 2001. After having reached Salvador de Bahia (Brazil) single-handed, without any modern means of communication, on a 6.50-metre boat, the sailor has continued to accumulate miles, particularly in Class40 boats, lining up at the start of the most prestigious races such as the Route du Rhum in 2010, the Transat Québec Saint-Malo in 2012, the Transat Jacques Vabre in 2013 and the Rolex Fastnet Race in 2015.
In 2021 and 2022, prestigious races such as the Transat Jacques Vabre, the Bermuda 1000 races, and the Vendée Arctique have been added to his list of achievements and have allowed him to have more than 80,000 miles on the clock.
He legitimately dreams of the Vendée Globe.
Being at the start will be a first victory, being at the finish will be the second, but his passion opens the way for him.
A committed man
Denis is not only a sailor... He is also a man with a big heart who wants to share his passion for sailing. He has already been involved in several solidarity projects, when he was administrator of an ASBL which helps young people in difficulty to develop personally through the practice of sport sailing. In 2010, 2011 and 2012, he sailed with young diabetics, which earned him the title of Honorary Citizen of his town of Ottignies Louvain-la-Neuve and the Fair-Play Project Award of the Province of Walloon Brabant. During the Transat Jacques Vabre he carried the colours of the association "No Limit 4 Us", which, beyond their differences, offers cultural and sports activities to young children with a disability.